Apologies for the abscence blame the snow, everyone else is Laughs Out Loud.
Bit of a blast from the past this one ~ the Casio BG-15 Electronic Calculator Clock & Boxing Game! I remember being the talk of my class after finding one of these babies in WHSmith. (And a lot of nagging to Mum of course!) Before long half the school had one, and a few paid more attention to these things than the old BBC computers we had set up in the Maths classroom.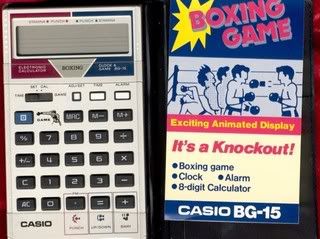 A nifty little calc
I was going to see if I could pick one up on one of the auctions sites but so far the lowest price ive seen was £80 and I cant justify spending so much on a calculator at this time of year, especially when most should be tightening their belts (including me.) I'll stick it on top of my car boot hunting list, who knows I might get lucky?